Wood Bar Stool
West Hills Wood has an exclusive wood bar stool design. Our bar stool comes one of two ways. One way is the stool alone. The other is our Rockin'Stool, which incorporates a guitar (or bass) amplifier into the stool as a complete unit for a unique musical experience.
Since you are buying direct from the West Hills Wood, your cost is nearly half that of other outlets. Look around and compare. You'll not find a better value.
Red and black are our most popular colors, but if you need a more custom look, give us a call and let's talk it out.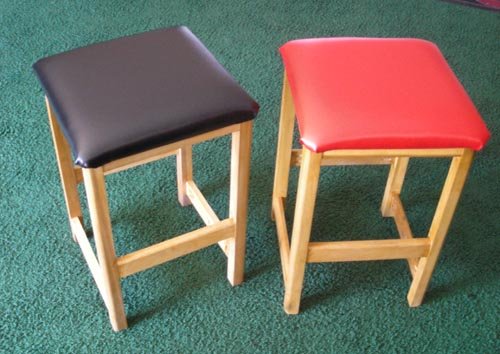 Our stools are made to order and designed for heavy use in the home, studio, stage, or on the road. These stools are hand made by Harold O. in our Los Angeles shop and feature:
• All solid hardwood construction • 24 inches tall • Wide/stable 16" x 16" seat • Custom upholstered top • Thick foam cushioning • durable red or black or clearcoat finish
Our stools are based off the Rockin' Stool basic design. They have proven to be reliable, comfortable, and attractive.
Your factory direct bar stool price is only $80.
Our bar stools are made to order and available only as a pick up item from the shop.
Custom options include colors, specific wood (oak, maple, walnut, etc), and seat cover material. Final height requirements can also be accommodated. We've been known to ad a back to an order or two along the way as well.

---