West Hills Wood - Products For Sale
We've been at the woodworking game for several years now and have gone beyond the beginner stage. People ask us for all sorts of custom pieces. Once in awhile we make an experimental piece or try an idea or simply decide to make extras.
Our initial projects were targeted at music-oriented items such as guitar rests and music stands. Then we discovered wood pen turning, basic cabinet making, and mirror frames. Is there no end to this madness?
Apparently not. In times of great consumer power and loads of overseas goods available, folks appreciate having something handmade by craftsmen. Especially someone they know.
We used to make pieces for our home. Then we built for friends. Now most our work goes to outside customers who simply need something specific. You can see our latest pieces in the section marked Projects or over at our Facebook Page.
Shipping drama has directed us to build only for the local market. All items must be picked up at the shop or arranged through private negotiations.
Contact us if you need something built. We will ask that you visit the shop in person, bring a picture or drawing of what you want, and we will then see what we can do to make it. If you want to help build your project, we can accommodate that request.
---
---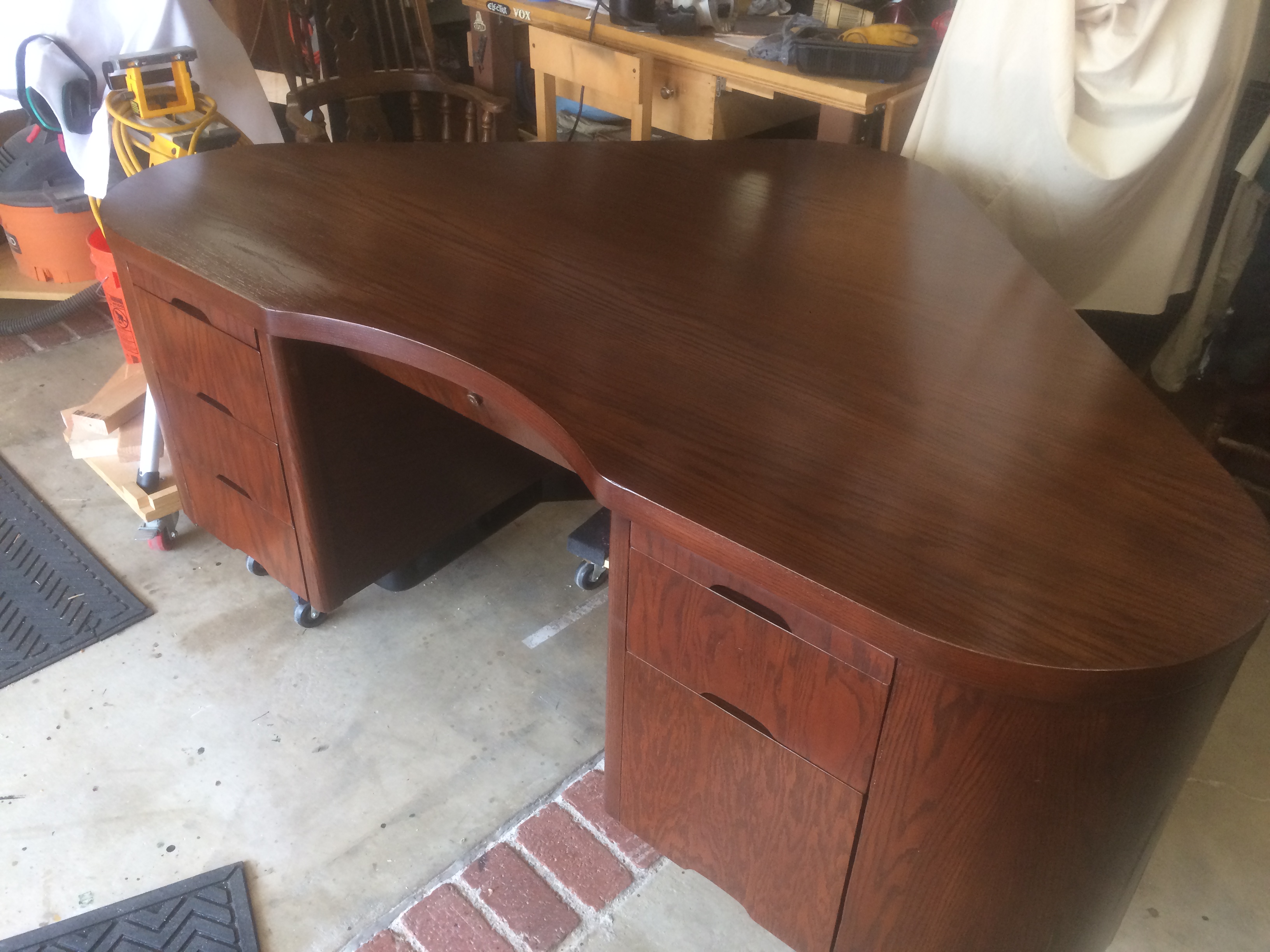 Fletcher Aviation desks are how we actually got started with advanced woodworking. We've restored aver a dozen of these 1940s vintage desks and consider ourselves experts regarding their restoration. We've gone so far as to build three desks up from scratch to fulfill customer needs.
Fletcher Aviation Desk For Sale
---
We are really excited about our latest bar stool design, based off a customer's request. Teaming with Guitar Merchant, we have have come up with speaker cabinets and something we call the Rockin' Stool. Click the images below for a better look.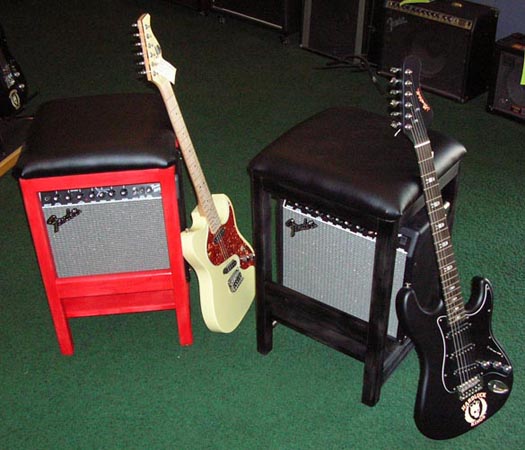 The Rockin' Stool gives a musician a stable platform to perform or practice on. The amplifier is built into the stool and makes it easy to move. Sound comes from all around the player while the thick cushioned top allows for longer play sets.
All Rockin' Stools are built to order and this our first foray into a truly commercial product. We can, of course, provide the bar stool sans amp.
---
We used to make speaker cabinets for sale via Guitar Merchant. No longer. The two biggest hurdles were shipping costs going through the roof and people calling/requesting/negotiating for near-zero pricing on the piece. While we all appreciate a good deal, our time is better spent building things.
If you are in Los Angeles and need a speaker cabinet, let us know and we can make a custom piece. We will no longer ship them.
---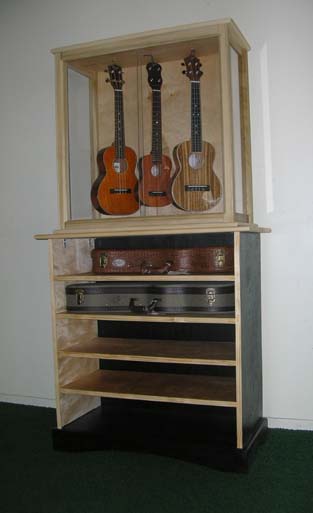 Once we started playing the ukulele, a big case of Ukulele Acquisition Syndrome settled in and we soon had ukuleles in cases all over the house. Rather than hide them in closets, we designed and built these handy, attractive, lightweight ukulele display cases. There is room for three ukes on display and five cases underneath. We only build to order and pick up must be made at the shop.
---
---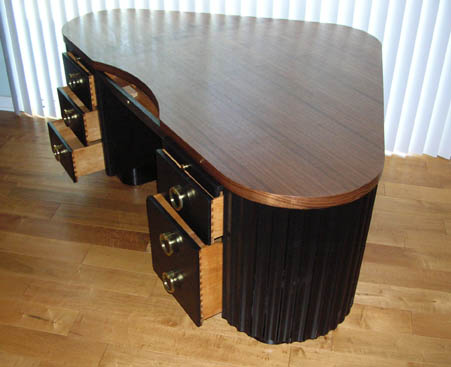 This desk is SOLD.
We had a friend who retired from Fletcher Aviation Company some years back and he had three desks stored in an airplane hangar. They were well used. When the hangar roof leaked, the desks were ready for the scrapheap. We came to the rescue and restored two beautiful desks. A third was built up from scratch around salvaged parts. Check 'em out, these things are really something. Again, both desks have been SOLD, though we are entertaining the idea of building modern versions in the Fletcher style. Contact us if you'd like one.
---
---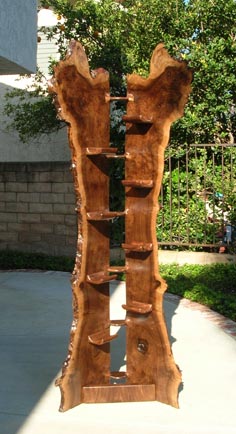 We were commissioned to build a corner book shelf and came away with this wonderful corner book shelf made of California black walnut. Yes, the project got out of hand, but the result is a stunning 7-ft tall work of art with eight shelves. We crafted this piece without nails, screws, or metal of any kind, aside from the adjustable feet.
It was well beyond what was called for, so we still had to build the required piece and this amazing walnut shelf is available for purchase. Click the image to see more detail.


Return from For Sale to West Hills Wood home