Table Saw
"They call them fingers but I've never seen them fing."
A table saw will not erase your errors. A good one, however, will reduce your errors, increase your accuracy, thus making your life as a beginning woodworker a lot easier.
We bought a 10-inch Delta a few years ago and haven't looked back. As much abuse as we've hurled at this thing, it keeps cutting up our boards into reliably straight pieces.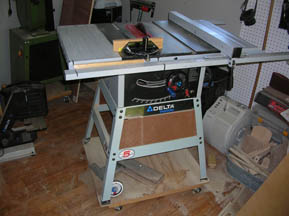 OK, no tool will actually erase an operator's errors. But after you've cut a few long boards with a circular or hand saw, you will appreciate the stability, ease of operation, and accuracy of a table saw.
There are three basic types of table saw out there in the general market. A table-top version is portable, offers a slightly better cut than a circular saw, and is more stable. Contractor's saws typically have a cast top, sturdy legs, and dust control ports. Cabinet saws have a wide top, are immovable, and are virtually indestructible.
For our discussion, we will consider the contractor's variety. Our West Hills Wood table saw came with a sturdy base and was simple enough to assemble. Being a garage shop at the time, we added a plywood base and wheels for mobility.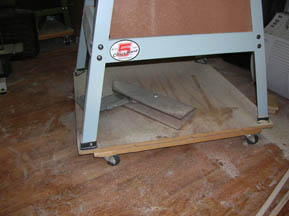 ALWAYS read and follow the instructions that come with your tools. Failure to do so will make you the topic of internet conversation for years and years. And it hurts.
That said, we found that the blade guard/splitter safety mechanism on our West Hills Wood saw was more likely to cause a problem than solve one. After fighting with it on several tries, we operate without it. We do put it back on from time to time to see if we've learned enough to work with it. Nope. It stays off.
Never use your table saw free hand. Always use either the rip fence or miter gauge. Upon first startup, you'll see why. Torque, speed, and a sharp blade are what make the this tool so effective. Your rip fence combined with push stick provides long, straight cuts. The miter slide should perform its task with relative ease. If you need to cut something with curves, use a different tool.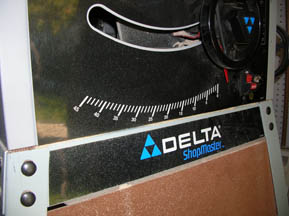 A decent quality contractor's saw will cost around $300 to $500, though you can spend more. It should come with a cast iron top, positive locking rip fence, miter slide, and solid base. Bring the truck when picking it up or have it delivered. Pay particular attention to the support bolts when assembling your saw, tightening them with good tension.
If mobility is a concern, mount four independently rotating wheels to the legs. They should have a locking option and be located near enough the edge of the base to allow stepping on the lock mechanism.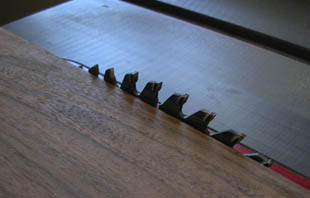 When cutting, raise the blade high enough to allow the full cutting surface to reveal itself. Too low and you won't get through. Too high and you increase risk of injury. Apply even pressure against the rip fence or miter gauge when pushing the material through the blade.
Keep in mind that the top of the blade rotates toward you. This will fling whatever particles there are directly at you. If using the blade guard, these particles will be deflected away more so than when operating without a guard (which we do, but do not recommend).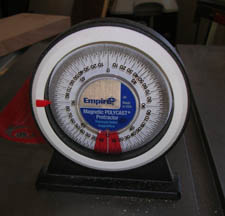 Table saw positioning controls should be verified for accuracy before you start believing them. Our rip fence, for example, was very accurate right out of the box. But the blade angle indicator is suspect enough to warrant using a simple aftermarket magnetic indicator. There are digital ones as well.
The rip fence indicator will show you the distance from fence to blade edge. If you are using the cut piece that goes between the blade and fence, this is good enough. If you are using the other side (in some cases, your saw or space may require a different technique), then allow for the blade thickness when setting the fence. It's usually about 1/8-inch.
If you think a piece might be a bit small for the table saw, it is. Use something else.
Always guide your work completely through the blade. Never abandon any piece of wood that is touching a moving saw blade. You will at some point do this. And at that time, you had better hope that your kid isn't standing behind you. The table top is about eye level for a kid and crotch level for an adult.
Don't think about it so hard that you never buy a table saw, but always look around before cutting wood.
Common sense applies when using one of these. Respect the thing and it will serve you well. When shopping, consider size (10-inch blade is standard), amperage (15 or 20W, 115V will suffice for most home shops), mobility (add wheels if needed), sturdiness/cheesieness of supplied fences (compare a couple and you will soon see the difference).
A good table saw will prove it's worth inside of a single project.
UPDATE: Our Delta saw finally gave out. We donated it to a local guy and he replaced a couple of parts to get it back up and running. Good for him. We have since purchased a new Ridgid R4511 Ridgid R4511 granite-top table saw and are quite happy with it.

Return from Table Saw to More Tools