Ridgid Table Saw
UPDATE!!
Our 4511 Ridgid table saw served us well for three years then chewed up its trunnion teeth. The trunnion is the gear mechanism that enables us to raise and lower the blade. Ours started getting a bit sticky, so we did a thorough cabinet cleaning and a little wax on the worm gear. That worked for a couple of weeks, but one day the blade would not go up.
We had somehow managed to grind off about a one inch group set of teeth. Ridgid has a Lifetime Service Agreement that I was not aware of and thus did not sign up for. The standard warranty was good for three years. I bought my saw three years and four months ago. After inconsistent conversations from the Ridgid service hotline, they will not stand behind it. That's the legally correct yet morally wrong way to go.
The service guy came out and tells me he's never seen this type of failure, even in saw many years older than this. It will cost around $400 to fix. A new, similar saw will run about $700-$1000.
I went to Craigslist and bought a used Delta Unisaw for $800. The Ridgid table saw will be manually set at 45 degrees with the blade high enough to cut through plywood. In so many words, the Ridgid is now an anchor and I will not be purchasing any more Ridgid tools.
---
---
Our trusty old Delta table saw gave up the ghost so we went out and bought an R4511 Ridgid Table Saw from the local Home Depot.
From experience with our previous saw, we knew we needed a tool with a wide top, portable base, and built-in dust collection. A solid cast top was sought, but there wasn't any available in our price range. One other factor was immediate availability. The old saw saw gave in during a project with a deadline and we needed to get back operational in a hurry.
****UPDATE*** The Delta saw had eaten its drive belt. I gave the saw to my neighbor, he replaced the belt, and has been using the saw for three years. The Delta is a good saw. ********
We'll show you here what's involved in putting one of these together. It's not hard, but you have to pay attention, follow the instructions, and have a friend to help with the lifting/figuring/cussing.
Our old saw cost us $300 about 8 years ago. We spent $600 on this one. Yikes. One fortunate thing was that the old saw was making noises for a few weeks ahead of time and the wife was informed. So when it came time, the skids were already greased.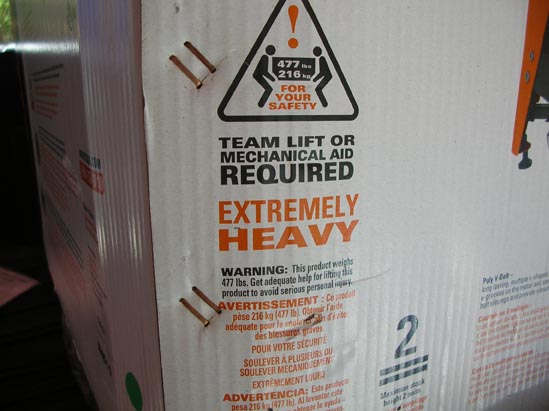 "Extremely Heavy" is an accurate assessment. This whole tool fits inside a sturdy metal framed transportation box. Two sturdy guys can't pick this thing up. We tried.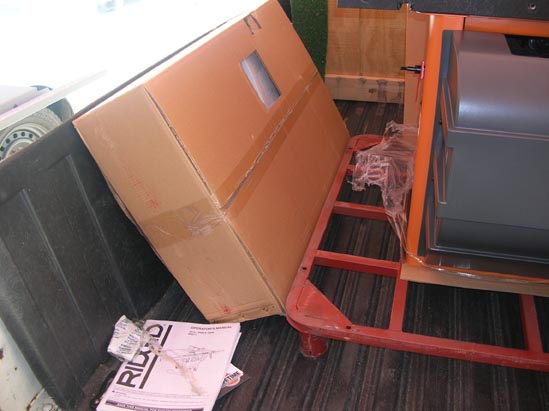 Breaking the packaging into manageable pieces wasn't too hard. We were able to make sense of most of the packaging.
Radio Flyer to the rescue yet again! While not often thought of as a shop tool, a small wagon with pneumatic tires will prove it's worth many times over. Our shop is out back and the wagon saved us several trips.
We were also able to load the heaviest part onto the wagon and move it to the shop without having to carry it.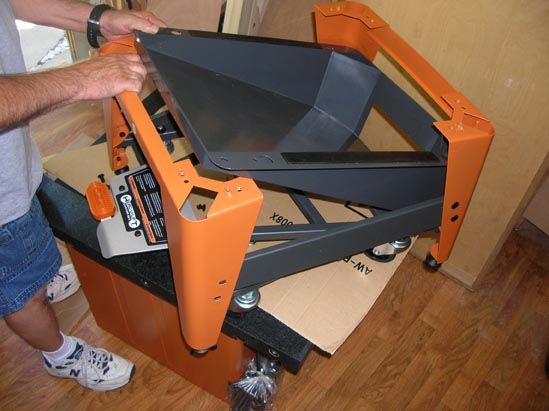 The motor assembly and center top section comes assembled. Set the top upside down on a piece of cardboard (to keep damage to a minimum - it's a new tool, plenty of time for scratches later). This Ridgid table saw has a wheeled lift system that enables it move around our small shop. Assembly is fairly straight forward.
As with all assemblies, get the nuts and bolts loosely in place before tightening any of them.
We had two people on hand to assemble the saw, but often found that there was only room enough for one person to actually work. Visualizing how the finished sections work goes easier with two people. And of course when it comes time to flip this thing back over, two is better than one.
Did we mention that two people are needed to do this job?
The granite table sides are aligned with pre-drilled holes and bolts. The fit is tight and wrench space is minimal, but certainly doable.
Alignment of the table sides will determine how accurate your cuts will be. This is not hard to do, but can take some patience. The sides are heavy and will move when tightening. Using two long straight edges help speed this process along.
We wondered about the small seam between top slabs, but have since learned that they have no effect on cutting operations.
The Ridgid table saw comes with side-mounted hooks for hanging your miter slide and rip fence. We tend to use it for the rip fence more than the miter slide because it's over the side and we don't like reaching down. That's a personal preference, of course. We keep our miter gauge on a wall hook.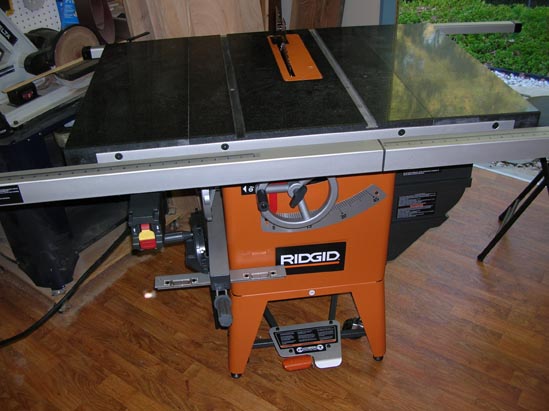 Here's the completed saw. Setup adjustments were fairly well described in the instruction manual. From back of the truck to operating in the shop, you're looking at about four hours.
We learned the hard way that aligning the blade exactly square to the rip fence is critical. After using the saw for about a week, we had a small piece of wood get caught between the far edge of the blade and the rip fence. Quicker than we could imagine, that small piece drew blood just above our belt line, through two shirts. It was like being punched. A simple realignment process fixed this, but we should never have let it happen.
The shear mass of the R4511 Ridgid table saw makes it a smooth operating, quiet tool. It's just on the edge of being too large for our small shop, so take that into account before purchase. The wheel lift system works well, but if you don't have room to maneuver, it can make for a frustrating time.
We appreciate the large wide top, smooth (which aids in accuracy) operation, and ease of assembly. If you're looking to purchase a center point for your shop, the R4511 Ridgid table saw is a good choice.
For more on operating a table saw, see this West Hills Wood table saw page.
There is a technical recall for some R4511 units already sold. At issue is a failing arbor when using stacked dado head cutters. No injuries have been reported and the company will repair any affected saws on site. Ours is on the recall list, though we've not experienced any trouble. They sent a guy out to our shop and the repair was done in short order.
*****But as we said in the update at the top of this page, Ridgid's phone service was inconsistent and not helpful. One operator told us straight out that we were "...over the warranty period and on our own." We never spoke to the same operator more than once.*****