Table Saw Cover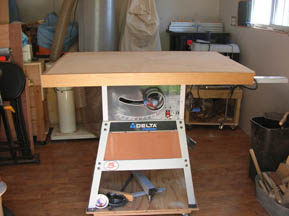 "...sailing forever toward the horizon..."
OK, different horizon. But this table saw cover will give a small woodworking shop more precious horizontal work space.
West Hills Wood operates from a 10 x 12 ft shop that is best described as tight. We found ourselves using the table saw top for all kinds of things unrelated to cutting wood then came upon the bright idea of making a sturdy removable cover.
Using 3/4-inch plywood, we dimensioned it to cover the top of our saw from front edge to just inside the safety guard connector. I suppose we could have gone over the connector. We left the ends of the fence rails exposed to make moving the saw easier.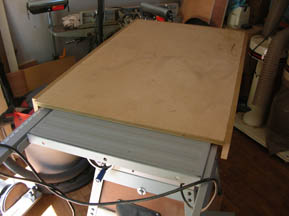 Using 1 x 3 poplar, we made a three-sided frame, leaving the fence rail side open. This lets us slide the cover off and on. We sanded it lightly to remove splinters, but applied no finish.
The photo at right has the cover pulled back slightly to show how the poplar side pieces reach over the front and back of the saw. To use your saw, simply slide the cover off and set it aside.
Did we mention this was all done mostly with scrap pieces? Even so, we'd have been out about $10 and 20 minutes.
This cover works great. It's light enough to lift off, sturdy enough to work on, and provides a large flat surface to work on. Making one of these to fit your table saw will allow you to use your saw for more than simply cutting.