California Claro Walnut FOR SALE
West Hills Wood no longer has California Claro Walnut for sale.
We had some for quite awhile and sold several sets, including those shown below. But now the Great State of California has decided to impose new rules of operation to even the smallest of wood suppliers. So West Hills Wood is no longer a seller.
Our friendly wood harvester provides the shop with ample supplies. We will not (cannot) ship nor advertise anything specific. But if you are local and in need of something, give us a call or drop in and maybe we can make a deal. OR, we can put you in touch with our favorite Central Valley supplier. Contact Us and we will see what we can do to fill your need.
ALL SETS HAVE BEEN SOLD
**************************************************************************************
All three of these wood sets have been sold. We have a direct line to more walnut and will be happy to work with you on picking some out of our stack. However, this will require you to come to the shop and select from what we have on hand.
Shipping costs are outrageous and new CA State regulations have dictated that we not actively sell our wood.
But if you come by the shop, you can maybe find something on the stack and we can machine it to rough size for you.
*************************************************************************************
This first set (SET 1) consists of five pieces, weighing ten pounds. The pieces measure Length x Width x Thickness:
14 1/4 x 5 x 1 inches
16 5/8 x 5 1/8 x 7/8
17 x 5 1/8 x 1
25 5/8 x 4 7/8 x 7/8
17 7/8 x 4 x 1/2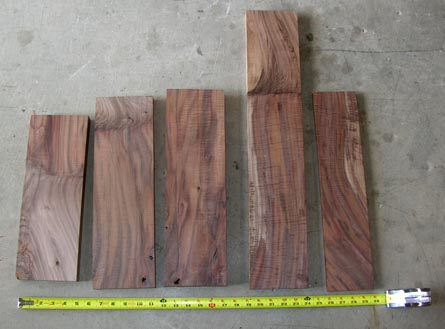 The California Claro Walnut for sale here was milled at our shop in Los Angeles. We are showing you both sides and an edge, with a tape measure pulled to about 30 inches for scale. There are a few knots, a graft feature in the grain (visible in the photos), and some very minor cracking that can be finish milled away. No wax or other preservatives have been applied.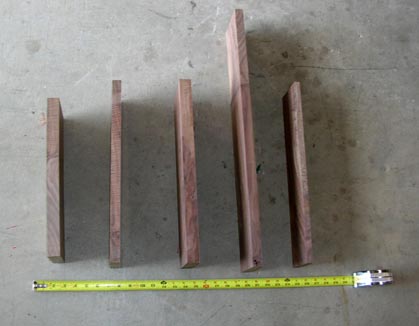 This is California Black Walnut, often referred to as "Claro", meaning clear. That's an odd way to describe the beautiful grain drama found in this wood. These particular pieces (as with all our Claro sets) were cut from a single tree. Tree curvature, dryness, and other factors dictated the final size of each set.
Keep in mind there are three distinct sets available on this page. SET1 has five pieces, SET2 has four while SET3 has three. Dimensions are given. You buy the entire actual set shown here. You can calculate the board feet if you want, but at this price there's not much to go wrong.


---
---
SET 2
Here are images of SET 2, California Claro Walnut for sale by West Hills Wood. Again, we have both sides shown and one edge.
There are four pieces in SET 2. They measure Length x Width x Thickness:
19 1/2 x 4 1/2 x 1 inches
20 1/8 x 5 x 1
22 x 5 x 1
24 x 5 x 1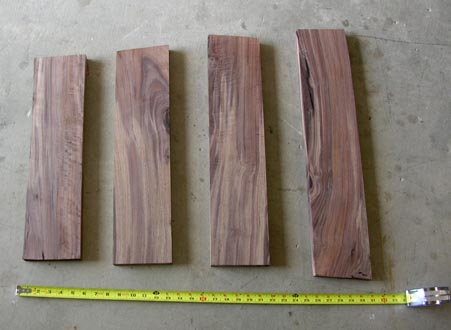 As with SET1, the boards in SET2 are all related and come from the same tree. All boards in SET2 are 1-inch thick. This will give plenty of room to work with.
You are certainly welcome to drop by the wood shop and see this wood before buying. Call ahead to ensure availability. The shop is at 7503 Topanga Canyon Boulevard, Canoga Park, CA.
We use a fair amount of this wood for our own projects and really enjoy working with it. We start with a variety of sizes, thickness, and coloring.


---
SET 3
SET 3 is of the same California Claro Walnut, but is milled to a finished thickness of 3/16s. These pieces are long and clear of defects, surfaced on two sides. Again, we are showing you the two sides. Standing a 3/16 board on edge is not happening.
40 x 3 1/2 x 3/16
46 x 6 1/4 x 3/16
59 x 6 1/4 x 3/16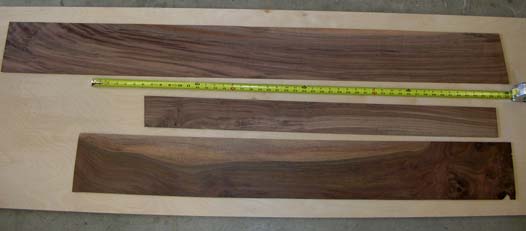 There is a tape measure pulled out to 48 inches for scale with SET 3. There are multiple opportunities here for a luthier to capitalize.
We have been squeezed out of the wood selling business by regulations designed to do exactly what they did. However, the occasional random piece comes available and we can certainly help out the local woodworker.


---
---