West Hills Wood has partnered with Guitar Merchant to build Rockin' Stools, providing the perfect music furniture solution for guitar and bass players everywhere facing space limitations when performing or practicing.
Guitar players are well aware of the problem when the guys come over to play. You need room for a chair and an amp for each player and most often your typical 100-watt amp is simply too big. With the Rockin' Stool, the chair and amp are in one piece, saving a ton of room.
Why do we call them "Rockin' Stools"? We've built in a shelf for a guitar amplifier to fit under the seat. Supplies and model numbers vary, but we will mount a brand new guitar amp prior to shipping.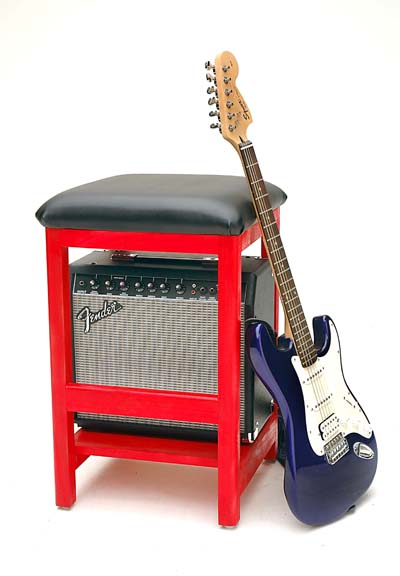 We no longer ship Rockin' Stools but you can come in to Guitar Merchant and order one for yourself. We now only build to order for pick up at the store. 
• American made • Self-contained • Great for stage/home/busking • Easy to move • Factory direct • Awesome sound
Rockin' Stool w/amplifier only $175.
When we say "combined", we could have said attached, affixed, built-in, or any other way of saying that we have physically built the wood bar stool and amplifier together, making it easier for you to load it into your car, carry it up the stairs, or just simply keep track of your equipment.
While playing on the Rockin' Stool, sound comes from all around you. The result is a sensational music experience unlike any other. You will play longer, in more comfort, and have more available space in your music room than ever before.
Hey, look. The Rockin' Stool is not meant to replace all your bitchin' gear or to be carried on the stadium tour circuit. But if you're jamming with your buddies, it will give you great perch to play from, ample power, and be easy to transport.
Or if you are an open-mic performer, this is the perfect solution to those goofy sound setups that too many venues provide. Contact us if you have any specific questions or requests.
Call Guitar Merchant direct 11AM-7PM PST 818-884-5905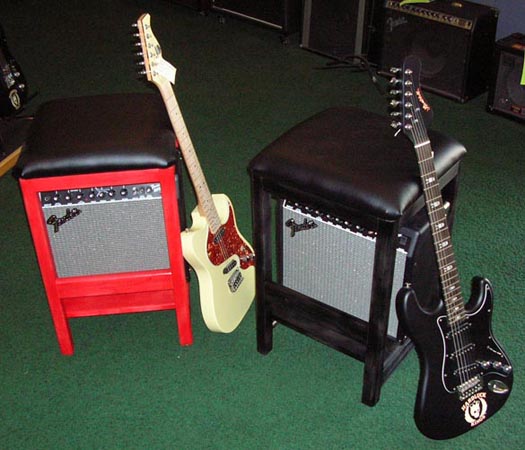 return from Rockin' Stool to Home