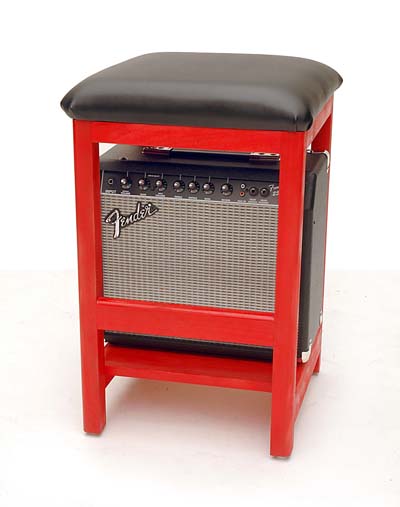 West Hills Wood has partnered with Guitar Merchant to build Rockin' Stools, providing the perfect music furniture solution for guitar and bass players everywhere facing space limitations when performing or practicing.
Guitar players are well aware of the problem when the guys come over to play. You need room for a chair and an amp for each player and most often a 100-watt amp is too big. With the Rockin' Stool, the chair and amp are in one piece, saving a ton of room.
Why do we call them "Rockin' Stools"? We've combined our wood bar stool with a full-featured Fender Frontman 25R guitar amplifier. For Bass players, we offer our Rockin' Stool with Fender's thundering Rumble 15 bass amplifier.
Both amplifiers carry Fender's full 5-Year factory warranty.
Of course you can order the stool alone and add your own amplifier. But the best deal ANYWHERE is to be had by purchasing a Rockin' Stool direct from our factory with the new amplifier for only $175!
• American made • Self-contained • Great for stage/home/busking • Easy to move • Factory direct • Awesome sound
Rockin' Stool w/amplifier only $175, plus shipping
When we say "combined", we could have said attached, affixed, built-in, or any other way of saying that we have physically built the wood bar stool and amplifier together, making it easier for you to load it into your car, carry it up the stairs, or just simply keep track of your equipment.
While playing on the Rockin' Stool, sound comes from all around you. The result is a sensational music experience unlike any other. You will play longer, in more comfort, and have more available space in your music room than ever before.
Hey, look. The Rockin' Stool is not meant to replace all your bitchin' gear or to be carried on the stadium tour circuit. But if you're jamming with your buddies, it will give you great perch to play from, ample power, and be easy to transport.
Or if you are an open-mic performer, this is the perfect solution to those goofy sound setups that too many venues provide. Contact us if you have any specific questions or requests.
Call Guitar Merchant direct 11AM-7PM PST 818-884-5905
All Rockin' Stools are made to order. Stools usually ship within three business days and travel via UPS Ground. We know California residents are closer, so we charge a flat rate on shipping and do our own paperwork on CA sales tax.
Don't like using PayPal? Call us with your credit card and shipping address. We'll take care of it personally.
Order now and get ROCKIN'!