Wood Music Stands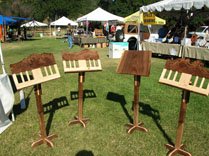 West Hills Wood's generation 2 wood music stands are worthy of display and use in fine company. The darker wood is California black walnut from the Central Valley while the yellow wood is harvested from retired pecan trees. There is terrific figure and character to the walnut. Pecan is a very hard, heavy wood with tight grain.
Minimal metal hardware is used when building these stands. There is a hanger bolt to secure the post to the base, adjustable metal feet, and a short metal pin for setting the platform tilt.
These photos were taken at the Topanga Banjo & Fiddle Contest and Music Festival in Agoura, CA. We used the edge pieces from some old walnut lumber as the top edge. This gives each piece a unique look. Stands are finished with lacquer and are a size suitable for use while seated.
We've sold out of these at $350/ea. They are quite popular. We do not keep an inventory. But we can, of course, build one for you upon request. Or you can build one of your own. Contact us if you'd like some detailed photos or want to order one for yourself.

Return from Wood Music Stands to For Sale