Ukulele Building Class
The ukulele building class we had scheduled did not happen. West Hills Wood is disappointed as we were looking forward to advancing our skill set. Plus, hanging out with a bunch of woodworkers under the watchful eye of a master luthier would have been a good time. Still, we may yet get another on the calendar. contact us if you are interested and we will alert you via email.
-----Harold O.-----
We have tried our hand at building a ukulele before and had a good time of it. More recently, we built a Hana Lima 'Ia tenor kit.
Ukulele artist/historian/all-around good guy, Ian Whitcomb, has just released a new book called Ukulele Heroes: The Golden Age. It tells the tale of many early performers, offers some history of the instrument, and is a good, engaging read.
Our first ukulele building class didn't pan out, but we still have a passion for the ukulele and have made some display cases for them. We have two black and two natural finished tops for sale. There is one remaining lower case also for sale.
We used poplar with plexiglass for the top and birch plywood with poplar trim for the bottom. They are done in two pieces so we can move them around easier.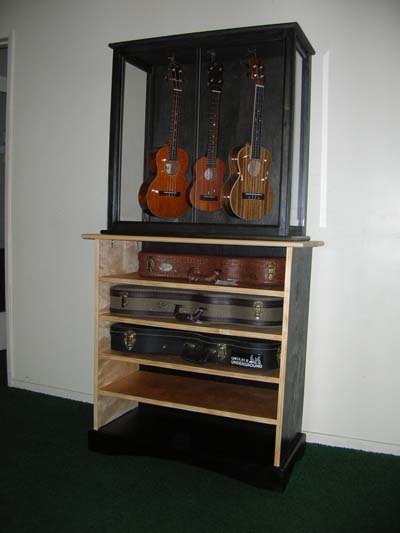 In this image, the top is painted with black enamel. The lower case has a painted back, bottom, and sides. In this configuration, the unit stands about 76 inches high.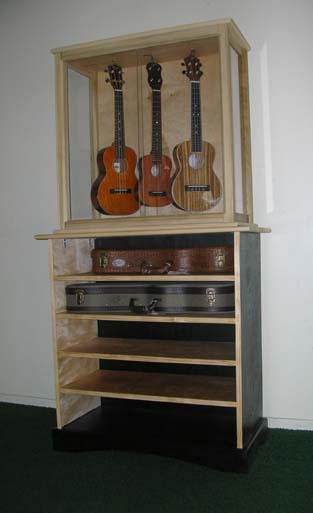 Here we have the same base piece with a clear coated poplar top. What a difference, eh? We designed this large enough to house tenor sized ukuleles. They are hung via small hooks at the top and dangled with leather straps wrapped once around the headstock. You can of course place one, two, or three ukes in the case. The lower part is designed to hold the cases.
While not anything like the ukulele building course we had hoped for, we still had a good time coming up with a storage solution for our instruments.
One more uke note before you head off, we hosted Lil Rev for a concert in Feb '11 at our favorite Guitar Merchant and the talented Ukulele Bartt dropped in for a visit. We will do what we can to keep the ukulele spirit alive and well in our area. To that end, Guitar Merchant hosts a ukulele jam every second and fourth Sunday from noon to two. Check out their website for more information.